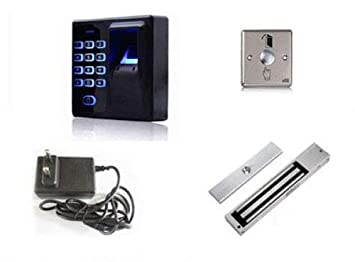 At HawkVision, we have door access control systems to ensure that your building is safe and only the right people are able to get in. With our range, you have complete control of the access points and can effectively restrict who can enter or not enter your space. As a leading supplier, we have an understanding of the diverse requirements of every property and have comprehensive access control solutions to give you the peace of mind that your space is secure. Explore our range today to find the right access control system.
Read More

Commercial Access Control Systems

Managing and monitoring the movement of people through the building is extremely important for any business. With the right access control, you can secure your space and meet the safety requirements of your business today and in future. At HawkVision, the security of your space is our priority, and we have an extensive range of control systems that can be customised to suit your unique requirements. Our standalone access control and integrated access control systems, make use of state-of-the-art technology to enable you to create a safe environment for your assets and employees. If you are keen to effectively regulate access to your building speak to our friendly team. We will understand your requirements and take you through the options.

Residential Access Control Systems

Access control is an essential requirement of any residential property. We have a wide range of access control systems for residential spaces to help you protect your people and property. With our innovative solutions, you can limit access to your property and avoid the hassle of changing locks if you are giving access to someone. Our access control systems can be used anywhere on your property and are built to suit your needs.

Complete Solutions For Access Control

At HawkVision, we are committed to offering reliable, cost-effective and robust solutions that scale your security operations. With our access control systems, you can get the additional security that you require. The versatile features of our system make them work well with and seamlessly integrate with any existing system that you may have. With our solutions, you can conveniently keep your property, goods and information secure. If you want to step up security, we assure you that you will be completely satisfied with our solutions.

We understand that every commercial or residential property is different and choosing an access control system requires consideration of several factors. We have a friendly team and will explain the features of our products so that you are able to make an informed choice. Whether you require an access control solution for a single door or a larger space where hundreds of people need access to your premises or parts of your premise, we have your needs covered. In case you have any questions or would like to find out more about our access control systems, feel free to reach out to us.